Hope the snow has gone and the temperature is on the rise!
The challenge this week is sponsored by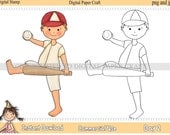 I have coloured he image in pro-markers and then added crystal effects to the bat and the ball. I then inked the edges of the panel
I added the image to a panel of textured card and then to a piece of DSP
I added the ribbon to the left hand side of the card and also 2 card candy - the brads are added to the top of the card panel 3 top and bottom...
The sentiment I randomly stamp all over the card
I love making this card and the image was great to work with!
I would like to enter this card in the following challenges:
I hope you enjoy the challenge